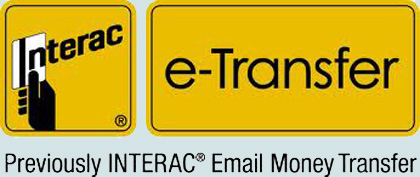 Using Interac Email Money Transfer is easy. Step-by-step instructions on how to use Interac Email Money Transfer are below.
You can use Interac e-Transfer if you have an online banking account at one of the following banks or credit unions:
Participating Banks: BMO Bank of Montreal, CIBC, RBC Royal Bank, Scotiabank, TD Canada Trust or President's Choice Financial.
Participating Credit Unions: Community Savings Credit Union, Island Savings Credit Union, Kingston Community Credit Union, Mennonite Savings and Credit Union, Northern Lights Credit Union, OPPA Credit Union, Teachers Credit Union, Prospera Credit Union, United Communities Credit Union, Westminster Savings Credit Union or Windsor Family Credit Union.
See the Interac web site for the most up-to-date list of participating financial institutions.
If you don't bank at one of those financial institutions, you may use PAYPAL to order.
Despite the name "Interac e-Transfer", money is not sent through e-mail. E-mail is only used to notify us that we can access the funds through the security of online banking. The funds are transferred through established banking channels that have been employed for years, like the method banks use for cashing cheques. Your banking details are not given to us—just like using a cheque.
If you have any questions, feel free to e-mail us at sales@eastcoastlobster.ca.
Here's how it works:
Sign-in to your online banking account at your bank's website.
Select bill payments and then "Interac e-Transfers".
Specify the amount for the payment. To determine this amount, use our order form here.
Provide the name and e-mail address of the recipient (in this case "East Coast Lobster." and sales@eastcoastlobster.ca).
Type "lobster" for the security question, and make especially sure the answer to the security question is "novascotia". We will not be able to complete the transaction otherwise.
Submit your transfer request and an e-mail notification will then be sent to us to collect the funds.
It takes 15-20 minutes for us to receive the funds then your shipment is profiled.